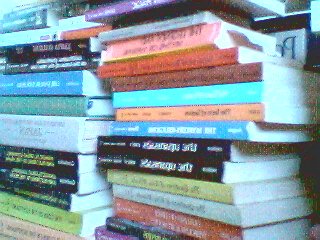 I've fallen into a literary rut.
For the last several days, I've been skipping from book to book-- from Dan Brown to Margaret Atwood to Salman Rushdie. I read the first couple pages, then my mind floats away from the words on the page. One minute Gibreel and Chamcha are plummeting to earth; the next minute I'm thinking really hard about how nice a turkey sandwich would taste.
I'm currently deep into
The Last Jew
by Noah Gordon, a novel about the Spanish Inquisition. The dialogue is entertaining, the characters are well-rounded, and the topic is interesting. However, though these are the required criteria to make it on my reading list, I don't know how long this book is going to last. I've been too unpredictable to judge.
Personally, I believe the problem is that I no longer have an assigned reading list compiled by a herd of professors. During the long haul of the school year, I scour the great works of literature required in class, all the while dreaming of the other books that
really
wanted to read. But now I have the free time and, well, I've read all the books that I had dreamed about during the year. What now?
Dear readers and lurkers, please give me some reading recommendations. Classics, summer reading, bestsellers-- it doesn't matter. Is there a book that stuck in your mind? Made you think? Made you laugh? Made you cry? Tell me about it.
Seriously. Tell me about it.
Because I may soon end up bringing cheesy romance novels to my brother's soccer games, which would be awwwwkward.
K.